[:fr][wpcol_1half id= » » class= » » style= » »]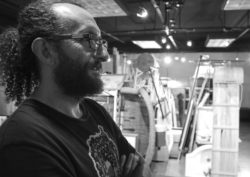 José Luis Torres est né en Argentine. Il détient un baccalauréat en arts visuels, une maîtrise en sculpture et une formation en architecture ainsi qu'en intégration des arts à l'architecture. Il vit et travaille au Québec depuis 2003. Ses œuvres ont été présentées dans le cadre de nombreuses expositions individuelles et collectives, au sein d'interventions publiques ainsi qu'au cours de résidences d'artistes à travers le Canada, l'Argentine, les États-Unis, le Mexique et l'Europe.
joseluistorres.ca[/wpcol_1half]
[wpcol_1half_end id= » » class= » » style= » »]
D'une autre nature
La pratique artistique de Torres, qui est surtout de la sculpture et de l'installation, est motivée par la notion d'appropriation de l'espace et par des détournements de sens posés sur des matériaux issus de nos environnements quotidiens. La spontanéité et l'accumulation sont récurrentes dans sa pratique, laquelle est liée aux idées d'économie de survie, de main-d'œuvre et du ready-made.
Adoptant une attitude ludique, ses œuvres s'ancrent dans la réflexion sur le phénomène de la coexistence avec des éléments non planifiés, se modifiant l'un l'autre pour former des environnements en permanente évolution. « Faire avec » est un de ses besoins et un des fondements de sa démarche. À partir des constructions et des « déconstructions » progressives il explore nos façons d'occuper l'espace en utilisant de manière subversive les règles du bricolage.
« D'une autre nature » est une installation cumulative, virale et invasive. Tout le processus de création sera une invitation à réfléchir au temps qui passe et à ce qui reste.[/wpcol_1half_end][:en][wpcol_1half id= » » class= » » style= » »]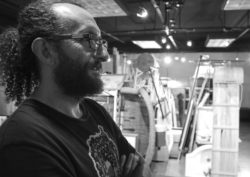 José Luis Torres was born in Argentina and has a Bachelor's Degree in visual arts, a Master's Degree in sculpture and training in architecture and integrating art with architecture. He has been living and working in Quebec since 2003. His work has been showcased in many solo and group exhibitions, in public interventions and artist residencies in Canada, Argentina, the United States, Mexico and Europe.
joseluistorres.ca [/wpcol_1half]
[wpcol_1half_end id= » » class= » » style= » »]
D'une autre nature
Mainly in the form of sculptures and installations, José's work is motivated by the appropriation of space and the redirection of meaning given to materials from our everyday environments. Spontaneity and accumulation are recurrent themes in his work; his approach combines the ideas of survival economy, workforce and the ready-made.
The artist's pieces are playfully rooted in a reflection on the phenomenon of coexistence with unplanned elements, modifying one another to form environments in a state of constant evolution. To "make do with" is one of his artistic needs and a cornerstone of his process; a progressive construction and "deconstruction" that explore the ways in which we occupy space by using subversively the rules of crafting.
The installation D'une autre nature [A different nature] is at once accumulative, viral and invasive. The entire creation process invites the viewer to think about the passing of time and what is left.[/wpcol_1half_end][:]