[:fr][wpcol_1half id= » » class= » » style= » »]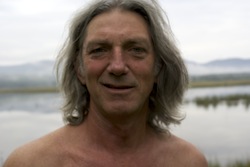 Originaire de Sydney, Australie, Christopher Varady-Szabo est maintenant installé à Gaspé, Québec depuis plus de trente ans. Après une année d'étude en architecture à l'Université de New South Wales, il a complété un baccalauréat en arts plastique à l'Université du Québec à Montréal (UQAM). En septembre 2011, il entreprend sa Maîtrise en Arts Visuels à l'Université d'Ottawa. Son travail à été exposé au Québec, en Ontario, en Saskatchewan, en Suisse, en Finlande, en France, en Belgique et en Pologne. Il s'est mérité de nombreuses bourses du Conseil des arts et des lettres du Québec et du Conseil des arts du Canada.
En explorant les concepts d'habitat et de systèmes d'architecture, il crée des installations éphémères qui visent à révéler la relation entre l'être et l'environnement. Ses sculptures s'inspirent de structures primitives et pour les concevoir, il emprunte et adapte des méthodes de construction traditionnelles authentiques. Son travail cherche à établir des relations entre territoire et architecture, entre l'être et l'habitat, entre l'espace et ce qu'il véhicule émotivement.
www.christophervarady-szabo.com[/wpcol_1half]
[wpcol_1half_end id= » » class= » » style= » »]La table des feux
La table de feux est une sculpture qui puise son inspiration à plusieurs sources. Comme idée de départ, je me suis imaginé un gâteau de fête géant, avec ses chandelles toutes allumées lors d'un banquet quelconque, mais qui devient carrément la table même sur laquelle il est  posé. Avec cette pièce, je veux célébrer la création à différents niveaux, autant domestique que géologique. La grande table, avec des excroissances à sa surface ressemblant  à un champs de volcans, nous appelle à réfléchir sur des moments de célébrations qui marquent nos vies ainsi que sur les grands événements de création géologique et par extension, à la création cosmique. Il y a donc référence au temps qui se manifeste autant dans le macro que dans le micro et par qui nous essayons de trouver  le sens en le mesurant et le divisant en événements importants.[youtube width= »250″ height= »187″]http://youtu.be/38lxvLVNdcI[/youtube]
Fait à partir de la technique traditionnelle de construction qu'est  le clayonnage enduit de torchis, la plupart des matériaux seront récoltés sur place autour du lieu où la sculpture sera érigée. L'aspect organique de l'objet faire basculer notre interprétation entre une imposante bête fabuleuse, un diorama de paysage et un meuble surdimensionné. Lors du vernissage, la sculpture sera animée par une fumée orange provenant de bombes fumigènes placées dans une cavité sous la table. [/wpcol_1half_end][:en][wpcol_1half id= » » class= » » style= » »]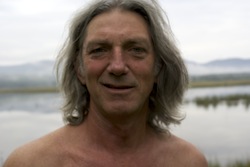 A native of Sydney Australia, Christopher Varady-Szabo has been living in Gaspé, Québec for over thirty years.  Following a year of architectural studies at the University of New South Wales, he completed his fine arts degree at l'Université du Québec à Montréal (UQAM). In September 2011, he began studies towards his Masters of Fine Arts at The University of Ottawa. His work has been shown in Quebec, Ontario, Saskatchewan, Switzerland, Finland, France, Belgium and Poland. He has been the recipient of several grants from both the Canada Council for the Arts and the Conseil des Arts et des Lettres du Québec.
By exploring habitats and architectural systems, Christopher Varady-Szabo creates ephemeral installation pieces that reveal the relationship between the being and the environment, and reactivates the «primitive space», or an instinctive approach to life. His sculptures are inspired by primitive structures for which he employs and adapts authentic traditional building methods. The artist invests much importance in the building process and in the manual labour and human scale involved.  His work tries to establish the Relationship between territory and architecture, between the being and the habitat, between the space and the emotions it conveys.
www.christophervarady-szabo.com[/wpcol_1half]
[wpcol_1half_end id= » » class= » » style= » »]La table des feux
La table des feux (The Table of Fire) consists of a sculpture which gets its inspiration from many sources. As an initial idea, I imagined an enormous birthday cake with all of its candles lit at a banquet of some sort, but which eventually becomes the table on which it is placed. With this work, I want to celebrate creation on many different levels, from domestic to geological. The big table, with its surface growths resembling a volcanic field, calls to us to reflect upon the celebratory moments in our lives, and also on the major events of geological creation and by extension, cosmic creation itself. There is a reference to time in both macro and micro form and by measuring and dividing it into significant events, we try to find meaning.
Made from wattle and daub, the most traditional construction technique, most of the materials will be collected on site near the sculpture's site. The organic aspect of the object will radically affect our interpretation which will swing from imposing mythical beast, to landscape diorama, to oversized piece of furniture. During the opening, the sculpture will be brought to life by orange smoke released by  smoke bombs placed in a cavity under the table.[/wpcol_1half_end][:]