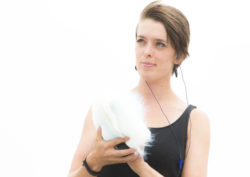 Born in Quebec, Camille Bernard-Gravel graduated with distinction from a bachelor's in fine arts program at Université Laval. Devoted to multidisciplinary art work, she seeks to establish an interrelation between the magnificence of natural phenomena and various human-made technologies.
Camille's work was recently featured as solo exhibitions in several cultural organizations in Quebec (Montreal, Quebec, Val-d'Or and Alma) as well as in Argentina (La Plata). Her work has also been shown during collective exhibitions in France, Thailand, Mexico and the United States.
Cette vague originelle
Stemming from natural light playing over the glistening silver surface of thin plastic (Mylar) fragments, Cette vague originelle is an in situ project consisting of devices that reveal the world's magnificence. Since our natural world is widely used by human beings to meet their various needs, the installation devices from this project are, inversely, subjected to the forces of nature as well as being in the service of its splendour. The piece is strategically placed in order to reflect the ubiquitous and perpetual presence of undulating movements in nature. It will thus adapt to the landscape while remaining exposed to many natural phenomena.
Having often reinterpreted natural phenomena with human technology in exhibition halls, this outdoor experience will enable Camille Bernard-Gravel to reverse the process. Her project is meant as a tribute to nature. It evokes the origins of the world by referring back to when nature was not yet under the stranglehold of humankind.