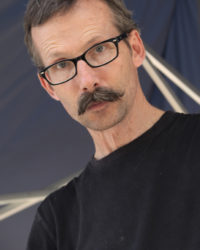 Douglas Scholes received a Maîtrise en arts visuels et médiatiques from l'Université du Québec à Montréal in 2001. He is an administrative board member for 3e Impérial, centre d'essai en art actuel and Optica, and one-fifth of the artists' collective Centre de recherche urbaine de Montréal (CRUM). His work has been exhibited at the Southern Alberta Art Gallery (AB), MacLaren Art Center (ON), Truck Gallery (AB), Verticale (QC), Darling Foundry (QC), DARE-DARE (QC), CIRCA art actuel (QC), Joyce Yahouda Gallery (QC) and Stewart Hall Cultural Center (QC). He has held residencies at SPACE Studios in London, UK (Canada Council), La Maison Laurentine (France), Rad'Art (Italy), Imagination Station (Detroit), AdMare, Îles-de-la-Madeleine (QC), and the Banff Centre (AB). The Canada Council for the arts and Conseil des arts et des lettres du Quebec have also supported several of his projects over the years.
Sowing Rubbish / Les semailles de détritus
Douglas Scholes' work brings together formal and concept based art notions with regular commonplace ideas and acts. The projects employ mundane procedures and materials to address the fragile and changing nature of existence and our desire/need to maintain that which we value. His practice flirts with the pragmatic, ludic, futile, and poetic, to uncover an optimism, conviviality, or empathy that may lie dormant, unsaid, unnoticed within everyday things and experiences.