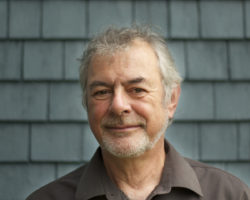 Hailing from Caraquet, Denis Lanteigne obtained his bachelor's degree in psychology at the Université de Moncton in 1973. Then he took courses in graphic arts, sculpture and photography at the community college in Bathurst for two years.
In 1982, Denis moved to Montréal where he worked as a hatter. Immersed in different styles, colours and fabrics, he started creating three-dimensional objects, which led him to further his journey toward making art pieces.
The artist opened a workshop in Caraquet in 2003 and worked on various sculpture and photography projects. Denis has been creating outdoor installations since 2011. He is president of Groupe Existe (a collective of artists), manages the Bernard-Jean art gallery at the Caraquet Cultural Centre, and sits on the board of directors of AAAPNB, artsnb and the Caraquet Commission for Cultural Infrastructures.
La face cachée du Soleil: métamorphoses duales
The outdoor installation La face cachée du Soleil: métamorphoses duales [The hidden side of the sun: Dual metamorphoses] deals with the transformation of things and the passing of time. Mirrors reflect the sun as it passes over the north facade of a building. Two devices composed of mirrors project geometric shapes at a fixed hour.
At noon, the first device forms a diamond that will lose its shape in the course of the afternoon. The second device traces, right beside and simultaneously, a fuzzy figure that transforms into rectangles as time passes.
During their long trajectory, the two figures simultaneously transform themselves and switch sides. One dissipates while the other becomes increasingly sharper. This is a metaphor of nature in which the cycles of life and death follow each other in turn.