Rose-Marie Ekemberg Goulet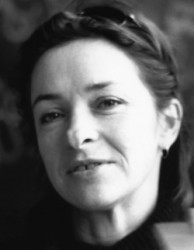 Rose-Marie Ekemberg Goulet
has been involved in public art since the early '80's. Her installation-intervention and integration projects both permanent and temporary, stem  from the deliberation of ideas on the experience of landscape when wandering, as well as an appropriation of the codes and languages of the places in which  the intervention occurs. Among her body of work, let us cite
Nef pour quatorze reines
(1999), a commemorative monument marking the tragedy at l'École Polytechnique, and 
Point de fuite
(2007-2008), an installation with the Société de transport de Montréal which involved the transformation of a metro car. In addition to the creation of several installation pieces, Rose-Marie has, for many years, been invited to submit projects with several public art bureaus in Canada and in the United States.
She has a Masters of open media from Concordia University, and a Bachelor from The Université du Québec à Montréal. She has won internships studies with l'École d'architecture de l'Université de Montréal as well as with l'École nationale supérieure du paysage à Versailles, France. In 2009 she was a recipient of the Norman-Slater prize for the integration of arts in architecture from the Ordre des architectes du Québec for Cantate a work located in the foyer of the Palais Montcalm, in Québec City.
interrogation partielle
The raw materials for my work stem from a substantial thought process in the space where I have been invited to intervene.  It is based on this actual experience of the place that the work begins to exist. This sensitive approach to a space and its latent signs has lead to a varied body of installations, varied by their shapes,  their materiality as well as their content. The artistic intervention I plan to carry out during the Symposium d'art/nature : Moncton 2012 is a continuance of a thought process which I've been exploring for several years now about the codes regulating travel in an urban space. My proposal is based on the comments and opinions about what one can expect from a work of art,  collected from pedestrians met in the Ecological Millenium Park as well as in the downtown  Moncton area, both being places where the Symposium is holding its activities. In an urban context, what can we ask of a work of art ? "That it dazzles us?" "That it be discreet?" "That we may ignore it?" "That it speak to us?"
The local investigation will most certainly testify to a large diversity of citizens' opinions and points of view, and whose answers will form the raw materials for my intervention. I will therefore be looking for ways in which to enter into contact with people of diverse origins with the intention of also gathering comments in languages other than French and English. As the gathering proceeds, the sentences gathered will be materialized in order to be installed along a route linking the park to downtown Moncton. Unusual elements in a public space, the expressions, be they discreet or bold, will be thought-provoking to pedestrians who will reflect on the esthetic rapport they have with their immediate environment.