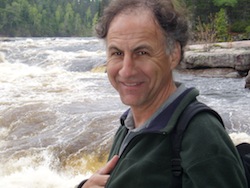 Gilbert LeBlanc
has been sculpting since 1980, and has shown his work in several countries. Twelve years of wood sculpting eventually lead him to build a foundry on his land in rural New Brunswick where he now oversees each step in his bronze making process.
This summer, Gilbert created a bronze public art piece for the city of Edmunston. His work « Chez les Catalans » created during a residency in Spain has toured throughout New Brunswick.
In 2009, Gilbert took part in the Symposium d'art actuel in Caraquet and created a bronze work dedicated to the father of the Congrès mondial acadien. He also created a public art work in Charlottetown in conjunction with Les Éloizes. From 2006-2008, forty pieces of his bronze work were shown throughout New Brunswick and Quebec.
He is co-founder for a collective of artisans, a provincial Métiers D'art association as well as an artist-run center. He has represented the visual arts in New Brunswick for five years within the AAAPNB, and has been a member of the board for the national arts service organisation, Association des groupes en arts visuels francophones.
Labyrinthe…
A labyrinth in which to find oneself.