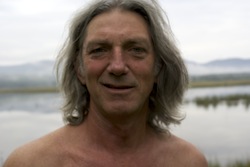 A native of Sydney Australia,
Christopher Varady-Szabo
has been living in Gaspé, Québec for over thirty years.  Following a year of architectural studies at the University of New South Wales, he completed his fine arts degree at l'Université du Québec à Montréal (UQAM). In September 2011, he began studies towards his Masters of Fine Arts at The University of Ottawa. His work has been shown in Quebec, Ontario, Saskatchewan, Switzerland, Finland, France, Belgium and Poland. He has been the recipient of several grants from both the Canada Council for the Arts and the Conseil des Arts et des Lettres du Québec.
By exploring habitats and architectural systems, Christopher Varady-Szabo creates ephemeral installation pieces that reveal the relationship between the being and the environment, and reactivates the «primitive space», or an instinctive approach to life. His sculptures are inspired by primitive structures for which he employs and adapts authentic traditional building methods. The artist invests much importance in the building process and in the manual labour and human scale involved.  His work tries to establish the Relationship between territory and architecture, between the being and the habitat, between the space and the emotions it conveys.
La table des feux
La table des feux (The Table of Fire) consists of a sculpture which gets its inspiration from many sources. As an initial idea, I imagined an enormous birthday cake with all of its candles lit at a banquet of some sort, but which eventually becomes the table on which it is placed. With this work, I want to celebrate creation on many different levels, from domestic to geological. The big table, with its surface growths resembling a volcanic field, calls to us to reflect upon the celebratory moments in our lives, and also on the major events of geological creation and by extension, cosmic creation itself. There is a reference to time in both macro and micro form and by measuring and dividing it into significant events, we try to find meaning.
Made from wattle and daub, the most traditional construction technique, most of the materials will be collected on site near the sculpture's site. The organic aspect of the object will radically affect our interpretation which will swing from imposing mythical beast, to landscape diorama, to oversized piece of furniture. During the opening, the sculpture will be brought to life by orange smoke released by  smoke bombs placed in a cavity under the table.