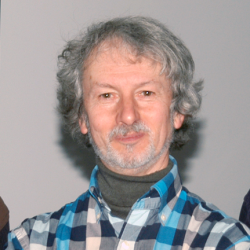 A self-taught artist,
Bob Verschueren
began his career as a painter. Dissatisfied with the limits imposed by the canvas, he turned to landscape on which he intervened directly using natural pigments which brought about his 1978 series of Wind Paintings. This radical change of direction in favour of the ephemeral decided his préférence for use of the éléments of nature as a means of expression. He created his first vegetal art installation in 1985, providing the public with a work in which the dégradation process was brought into play. Since 1995, with the assistance of the
Centre de recherches et de formations musicales de Wallonie
he has developped sound Works called «Catalogue des Plantes». His installations, more often within exhibition spaces than outdoors are a reflection of the indissoluble connection between life and death.
Renaître
The public art piece suggests a «path of rebirth», a pathway that twists, turns, dips downwards and promptly resurfaces. We descend into a space where we no longer are able to see the landscape, and emerge with a child's ability to delight at what he sees, and with a child's ground level view. Progressively, the point of vue becomes that of a fully grown individual as the participant recovers his own perspective and size through  his gradual resurfacing.
Over time, végétation will grow over the sides of the path.